Coronavirus Newsletter Update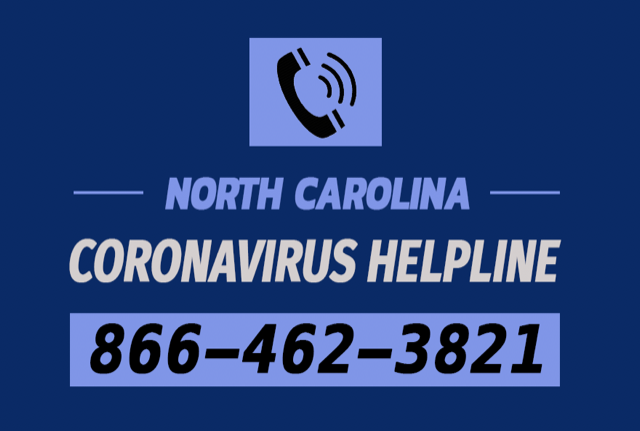 March 16th, 2020
During the last week, the impact the Coronavirus disease (COVID-19) has had on our way of life has increased exponentially. Schools have closed, professional and college sporting events have been cancelled, and the daily work and social routines of Americans all across the nation have been disrupted.
I understand that many North Carolinians are worried about what the coming weeks will bring, so I wanted to reach out and update you on what I am doing to address this crisis head on.
WHAT WE HAVE DONE SO FAR
The good news is that North Carolina has been on top of the Coronavirus from the very beginning, and the steps we have already taken to lead the nation on this issue are going to make a major difference as we move forward.
Just today, UNC Health announced that UNC Medical Center and UNC School of Medicine in Chapel Hill have developed a new COVID-19 diagnostic test that is now in use and will be a tremendous help in addressing the testing shortage we have been facing. While UNC Health experienced bureaucratic delays from the FDA to launch this new test, I was able to work behind the scenes to urge the FDA to expedite the process so UNC Health could begin coronavirus testing as soon as possible.
Click HERE to listen to me discuss the breakthrough in a radio interview with WBT-Charlotte.
Those are not the only steps we have taken to increase Caronavirus testing in our state. Last week, I sent a bipartisan letter to Vice President Pence urging the administration to provide additional resources to increase testing capacity in North Carolina. Governor Cooper has been working to address testing shortages as well and it has been a major priority on our Coronavirus Task Force calls. While the number of testing kits in North Carolina is not yet where we need it to be, I'm committed to working with the administration and our state leaders to get us there.
Prior to the work I did on testing, I called on the Vice President Pence and Congress to keep partisan politics out of our nation's prevention and response efforts, and supported the successful bipartisan initiative to provide $8.3 billion in federal funding to combat the spread of the coronavirus. The spending package includes critical dollars to support research and vaccine development. I also worked to help secure more than $13 million that will go directly to North Carolina to be used for emergency preparedness.
And in addition to the pressing health concerns that come with the Coronavirus, I am also working diligently to protect the well-being of North Carolinians who are already feeling the economic hardships that this outbreak is causing.
That is why I cosponsored bipartisan legislation
that would allow veterans on the GI Bill to continue receiving full benefits as universities move classes online to prevent the spread of the virus.
WHAT WE NEED TO DO GOING FORWARD
It is vital that our nation's leaders cast partisan politics aside and come together to confront this public health crisis. That is why last week I called on the Senate to cancel its upcoming recess so we could work on additional legislation to address the physical and economic health of the nation. Fortunately, Leader McConnell agreed and this week we will be taking up a major legislative package to do just that.
WHAT YOU CAN DO TO HELP
Both President Trump and Governor Cooper have declared states of emergency to give themselves the tools necessary to ensure our safety. Those were both the right calls, but our leaders will need your cooperation for us to be successful. We are also asking all of you to adhere to social distancing requirements that will slow the spread of the Coronavirus. We are all in this together and although these measures will undoubtedly present some serious challenges to our faith communities and working parents, it's vital that we protect the health and well-being of North Carolinians.
ADDITIONAL INFORMATION
The CDC, the North Carolina Department of Health and Human Services (NC DHHS), and the Red Cross have valuable information for North Carolinians on how you and your loved ones can best protect yourselves. By taking these precautions, we can all do our part to help stop the spread of the virus and protect others.
Visit the North Carolina Department of Health and Human Services (NCDHHS) and the CDC for the most up-to-date list of travel health notices. For more information, call the toll free NC COVID-19 Helpline at 1-866-462-3821 or visit the CDC.Gov or NCDHHS.Gov.
If you think you may be experiencing symptoms, call your health care provider or local public health department. You can find your appropriate POC here.