Tillis' Opening TV Ad Of General Election Highlights His Blue-Collar Upbringing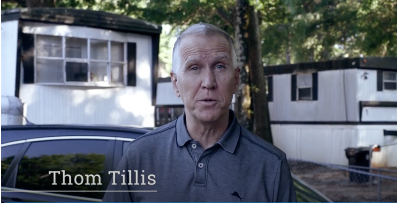 May 26th, 2020
Senator Tillis: "My Job Is Fighting For Your Job"
CHARLOTTE, N.C. -The Tillis for Senate campaign today released its opening ad of the general election, reminding North Carolinians why they first voted to send Tillis to be their voice in the Senate in 2014. "Humble," the 30-second spot, will be backed by a media buy totaling more than $750,000. It features Senator Tillis sharing the story of his blue-collar upbringing and how it uniquely prepares him to fight for the jobs of hardworking North Carolinians as we move into the recovery phase of COVID-19.
"There is only one candidate in this race who can empathize with the financial hardships facing so many North Carolinians right now, and that's Senator Tillis," said campaign manager Luke Blanchat. "When it comes to who they want in Washington working to save their jobs and revive the economy, the people of North Carolina are tired of the career-politician lawyers who always let them down, and instead want a Senator who knows what they are going through and has a plan to fix it."
Watch "Humble" HERE. 
TRANSCRIPT
SENATOR TILLIS: Rental houses in Louisiana. Trailer parks in Florida and Tennessee. We moved seven times before I was sixteen, living paycheck to paycheck. I grew up with strong parents and humble people in humble places, and I take a little humility to the U.S. Senate, where it's in short supply. I'm Thom Tillis. My job is fighting for your job. We will build this economy back, and I'll remember who needs it the most. I'm Thom Tillis and I approve this message. 
BACKGROUND
Senator Tillis was born into a working-class family with his father and mother and five siblings. During his childhood, his family was frequently forced to relocate depending on where his parents could find work. After graduating from high school, Senator Tillis was unable to afford college, so he took a job as a warehouse records clerk earning minimum wage.
Eventually, Senator Tillis was able to put himself through night school while raising a family at the same time. He rose all the way up from warehouse clerk to partner at IBM before he began his time in public service.