Newsletter: June 6th, 2020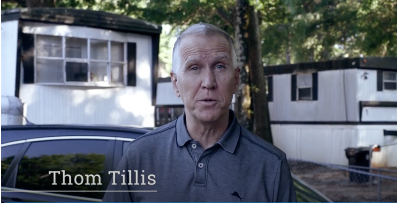 June 6th, 2020
As we move into the recovery phase of the COVID-19 pandemic, I wanted to update you on what my campaign has been doing over the past couple of weeks.
NEW TELEVISION AD
Last week, I released my first TV ad of the general election, "
Humble
." The ad tells the story of how I grew up moving from trailer park to rental home and how that blue-collar upbringing shaped who I am today. Those experiences taught me that my job is to fight for the little guy, something North Carolinians need their Senator to do right now as we build back our economy.
Watch my full ad HERE and learn more about my story by reading my recent blog post. 
THE DIFFERENCE BETWEEN MY OPPONENT AND I
During my recent interview with Spectrum News' Tim Boyum, I explained some of those differences between me and my opponent. I shared how former State Senator Cal Cunningham is incapable of getting North Carolina's economy back on track and fighting for the most vulnerable because he's never been there. The reality is that Cunningham has only met the little guy, but I've been the little guy. I'm here to fight for economic opportunities for North Carolinians who are struggling because I know what it's like to be in their shoes. 
I also talked with Tim Boyum about my commitment to holding China accountable, which Cunningham has refused to do in the past.
Watch that clip from my interview HERE. 
MY THOUGHTS ON THE DEATH OF GEORGE FLOYD
In that same interview, I spoke about the tragic death of George Floyd and the impact it has had on our nation. Now is the time to listen and understand that the demonstrators have a valid argument, but also understand there's no place for the violent riots that we've seen. Peacefully demanding justice and condemning violence are not mutually exclusive. We can and must do both. 
Watch that clip from my interview HERE. 
KEEP IT UP 
I will continue to work hard to get North Carolina's economy back on its feet and all of you back to work. Please continue to follow public health guidelines so we can beat this virus and continue our economic recovery. I'm looking forward to connecting with you all on the campaign trail very soon. Thank you for allowing me to share these updates, and God bless you!